Our planet and your health is important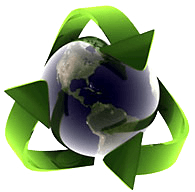 Durabond is proud to employ green initiatives to help make your office safer, healthier and environmentally responsible.
Energy conservation measures through light pollution reduction.
Crews work with less overhead lighting whenever possible. Lights are always turned off in areas where our crews are not working.
All Vacuums and equipment are energy efficient and are low noise.
All equipment is maintained regularly through a maintenance program to ensure they are running cleanly and in peak condition.
Sustainable cleaning products whenever possible. Our supplies and products are 100% green friendly (i.e. garbage bags and washroom paper products used for dispenser are 100% recycled.)
We use NO PAPER when cleaning! we employ the coloured microfiber program – washed and hung to dry.
We follow recycling programs at every location we service. Going so far as separating recycling placing in designated areas.
We practice water reduction through regulators where possible.
Water consumption is efficient through our dilution practices.
Only Green Products are used.
We reuse/re-clean/recycle as much as possible (i.e. Plastic Bottles, Containers, Dust mops, mops, buckets etc.)
Our crews generally work in a small area which helps to contain driving time and gas use.
Durabond's own office is green friendly. We use as little paper as possible and follow the above practices within our own business.